Two cakes – one sponge cake, one fruit cake – made for a 50th birthday.
The first cake is a 12" vanilla sponge birthday cake, with a vanilla butter cream and strawberry jam. Topped with a homemade decoration made out of edible gum paste icing.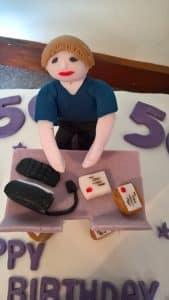 The second cake is a 9" fruit cake, topped with 50th birthday icing and purple stars.