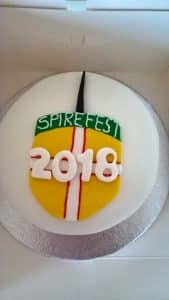 This cake features a vanilla sponge, with vanilla buttercream and strawberry jam. It was created for and donated to Spirefest, who auctioned it off, raising £50 for charity.
Spirefest 2018 is fund raising to buy a defibrillator for Spire Hill Farm – a very worthy cause as the whole farm has become a very busy complex. Not only that, the defibrillator will also serve the neighbouring houses and farms on the Thornhill road.
Read more about Spirefest here.